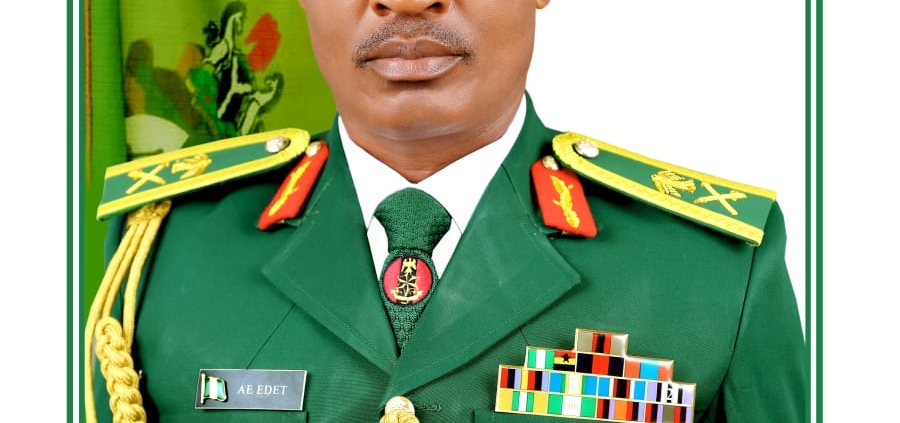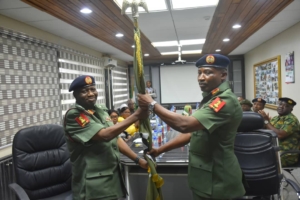 In a ceremonial leadership transition, Major General Aniedi Effiong Edet formally assumed duties as the 24th Director General Defence Industries Corporation of Nigeria (DG DICON) on 11 July 2023. The assumption was preceded by a brief and impressive handing and taking over ceremony between him and his predecessor, Major General Hassan Gambo Tafida, who was posted as Corps Commander of the Nigerian Army Electrical and Mechanical Engineering (NAEME). The brief ceremony, held at the DICON headquarters in Kaduna, heralded a new chapter in DICON under Major General Edet's stewardship. It also serves as a symbolic representation of continuity and the commitment to the nation's defence industrial aspiration since the establishment of DICON in 1964.
In his farewell address, Major General Tafida thanked the management and staff for their support throughout his tenure. He emphasised the importance of maintaining the same level of support for the incoming DG, Major General AE Edet. He expressed confidence in the abilities of the new DG to move DICON to even greater heights following his track record in the military.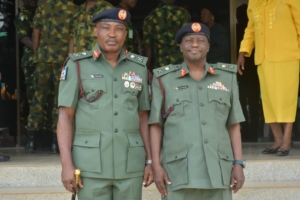 Expressing his gratitude, the new DG, Major General Edet, acknowledged the trust and confidence placed in his appointment by the Chief of Defence Staff and the Chief of Army Staff. He recognised the weight of responsibility of leading a critical national asset like DICON and pledged his dedication to duty and determined efforts to advance its founding mission and objectives. He stated that with the right environment, resources and collective will by all stakeholders, DICON can grow to meet Nigeria's needs in defence material.
Major General Edet also acknowledged the efforts of past DGs, especially Major General HG Tafida, for their leadership and accomplishments. He, therefore added would consolidate and build upon this foundation and seek to propel DICON to new heights, emphasising the promotion of innovation, staff welfare and a business orientation as his priorities. He also promised to make DICON a viable and productive national asset. He emphasised the need for teamwork and collaboration to achieve the strategic goals of DICON and assured that he would lead with integrity, professionalism, and a relentless pursuit of excellence.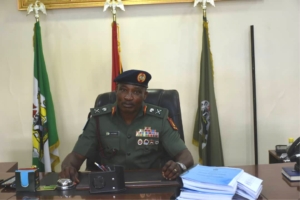 The new DG, Major General AE Edet, has vast military experience and academic qualifications. He holds a Bachelor of Engineering degree in Electrical/Electronic Engineering from the Nigerian Defence Academy Kaduna; a Master's degree in International Affairs and Diplomacy, Ahmadu Bello University, Zaria; a Master's degree in governance and leadership from Ghana Institute for Management and Public Administration, Accra Ghana; and Master of Science in National Security Strategy from the United States of America National Defense University.
He was a Directing Staff member at Nigeria's and Ghana's Armed Forces Command and Staff Colleges. He served in many regional and UN operations, such as ECOWAS Mission in Liberia (ECOMIL), UNMIL, UNMIS and UNAMID. He has attended several courses within and outside Nigeria, including Defence and Security Management Course organised by King's College London. He also attended the United States of America National War College as International Fellow in June 2016 and graduated in June 2017 as a "Distinguished Graduate".
The ceremony concluded with transferring the DICON Colours from the outgoing to the incoming DG, signifying a smooth transition and a strong bond of camaraderie. As Major General AE Edet assumes the role of DG, there is a sense of optimism and renewed vigour within the DICON community. DICON is poised to contribute significantly to Nigeria's defence capabilities. As the nation looks toward the future of domestic technological growth and production, DICON remains steadfast in its mission to contribute to Nigeria's self-reliance in defence and security.
The handover ceremony not only marked the transition from one leader to another but also embodied the unwavering commitment of DICON to Nigeria's defence industry. With Major General Edet at the helm, the stage is set for the organisation to reach new heights and play a pivotal role in Nigeria's national security landscape.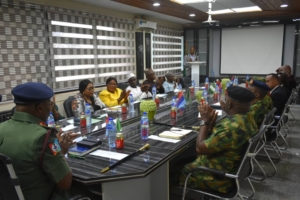 The handover ceremony was attended by senior management staff, military officers and staff of DICON
https://dicon.gov.ng/wp-content/uploads/2023/08/WhatsApp-Image-2023-08-17-at-12.08.07-PM.jpeg
1125
900
admin
https://dicon.gov.ng/wp-content/uploads/2022/09/MINISTRY-OF-DEFENCE-DEFENCE-INDUSTRIES-CORPORATION-OF-NIGERIA-DICON.png
admin
2023-07-17 09:54:49
2023-08-19 13:07:37
MAJOR GENERAL AE EDET ASSUMES DUTY AS THE 24TH DG OF DICON