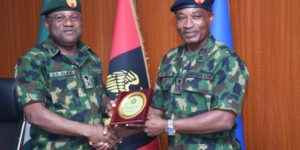 Major General AE Edet, the Director General of Defence Industry Corporation of Nigeria (DICON), has received praise for his extraordinary efforts in ensuring the organization's maximum productive readiness since taking office from Major General BA Alabi, the General Officer Commanding (GOC)1 Division and Force Commander of Operation Whirl Punch (OPWP). On Thursday, August 10, 2023, the DG DICON and his team paid a visit to the Division's Headquarters at Dalet Barracks in Kawo, Kaduna, and delivered the compliment.
Given DICON's operational presence inside the 1 Division Area of Responsibility, the Director General of DICON expressed his deep joy in visiting the Division's Headquarters to familiarize himself with the organization and request the GOC's cooperation in his opening remarks. He highlighted that the purpose of the trip was to promote cooperation and gain support from the top division of the Nigerian Army. The DG DICON emphasized the company's capacity for mass production, which is consistent with its founding objective in 1964 to supply the Nigerian Armed Forces' equipment requirements. He also expressed the intention of DICON to function as a business-oriented organization, ready to accept orders for the fabrication of equipment, particularly for the Armed Forces and its divisions, particularly 1 Division.
Major General Alabi responded by extending his hearty welcome to the DG DICON and praising the considerable advancements made in boosting DICON's Productive Readiness. He gave the DG his word that the Division will always be supportive and helpful. According to Maj Gen Alabi, who expressed his faith in the DG's ability to improve DICON's performance, "Following your pedigree, I have confidence that you will take DICON to greater heights in meeting the Armed Forces of Nigeria's needs." He wished the DG DICON a prosperous tenure and congratulated him on his well-deserved appointment.
This conference brought home how crucial it is for DICON and the 1 Division of the Nigerian Army to work together to strengthen the nation's security and defense capabilities. The mutual assistance and cooperation shown by these two organizations are expected to significantly improve the operational effectiveness and efficiency of the Nigerian Armed Forces.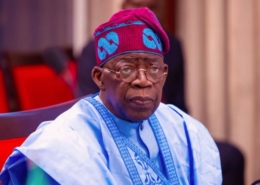 https://dicon.gov.ng/wp-content/uploads/2023/11/President-Tinubu.jpg
454
680
Timothy Onomanide
https://dicon.gov.ng/wp-content/uploads/2022/09/MINISTRY-OF-DEFENCE-DEFENCE-INDUSTRIES-CORPORATION-OF-NIGERIA-DICON.png
Timothy Onomanide
2023-11-27 09:05:03
2023-11-27 09:05:23
President Bola Ahmed Tinubu Assents To DICON Bill